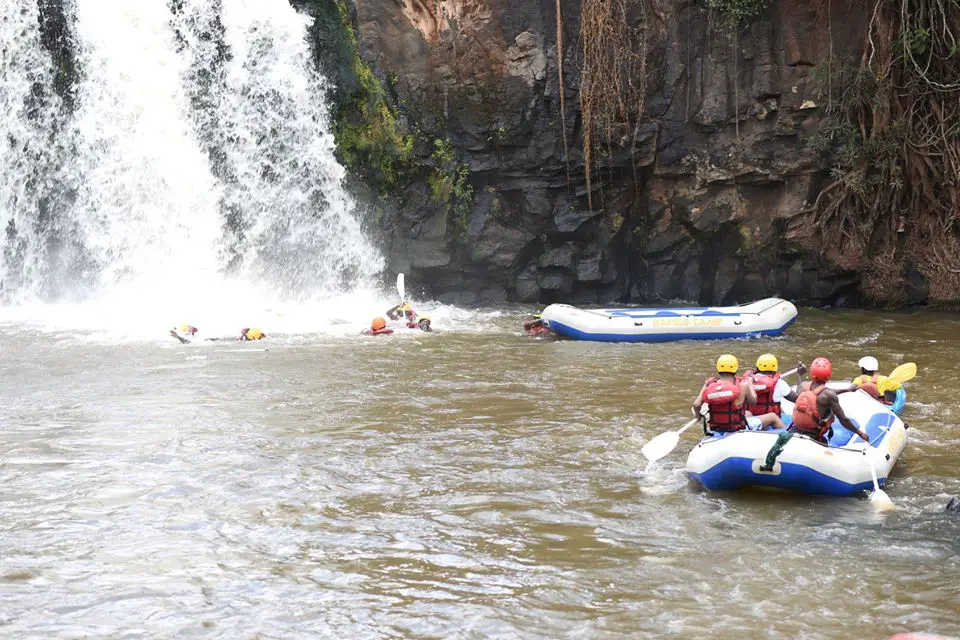 You do not have to be an Esikimo to enjoy the pleasures of kayaking. There are several locations in Kenya at where you can be introduced to kayaking.
Rapid Camp Sagana
 Rapid Sagana camp was the host of African Olympic Qualifier Kayaking Games in 2008. That clearly explains why the location tops on my list.
 Sagana is an hour from Nairobi on your way to Nyeri. This is the best location to learn about kayaking. It has experienced instructors who will introduce you to the kayaking   gears and the boats that fit you perfectly. You get to learn about basic strokes, boat control and even rescue techniques which are crucial when sporting in water.
 Rapids Camp feature flat waters, middle and fast-moving waters. The kayaking experts get to plunge the falls. This is indeed the best place to go for kayaking with friends or as an individual. You will also enjoy the kayaking classes if you happen to be a beginner.
 The kayaking packages here include 3-4 hours of commercial river trips and that includes the 45 ft plunge during the sagana rafting session.  You can also get to enjoy breakfast next to the rapid falls. The packages are tailored to meet your budget and of course, it will depend on other factors such as a number of people visiting the area, time spent kayaking and more. Be sure to call so as to state your demands before you can visit so as to ensure you have an idea of how much money is needed for the adventure
  Kayaking begins at 11 am to 5pm on each day of the week.
 Contacts: info@raftinginkenya.com
Telephone: 254732308026
Uhuru Park
  Enjoy a laidback picnic at Nairobi'  biggest uhuru park. Uhuru park is the host of several public events but is  also a great location. for  private events and photography.
 The park is located at Uhuru Highway across Nairobi intercontinental Hotel. It is to the North of Kenyatta avenue. The area is easily accessible from all corners of the city.
 The park is also a popular hangout location and picnic site for families and couples. At Uhuru park, you get to enjoy a self- padded boat ride at Uhuru dam. The location is open throughout the week and is free to the public.  However, there are charges for boat rides and use of toilets. For example, a boat ride for about 10 minutes will cause about Ksh 100 for about 10 minutes.
Paradise Lost kiambu
 Paradise lost Kiambu is home to one of the best   man- made dam  in Kenya. The dam is surrounded by a vast of coffee estate making it an ideal place to boat ride because of the breath-taking nature it features.
 The paradise lost grounds doubles up as a venue for events known as the paradise gardens.   Several weddings,  cooperate functions and meetings have been hosted here since 2008. The  venue can comfortably  host up to 2000 people with enough parking of about 4000 cars.  You should absolutely consider it for your next  function.
 Adults get to pay  300 Kenya shillings for boat riding while children pay 150 shillings.
  Paradise lost is open daily from 9.00Am to  5 .00Pm
 Contact: 0717655864
Evergreen park ,kiambu
 Evergreen park and Garden is a gateway picnic site along kiambu road, just about six kilometres from Muthaiga roundabout. This park is about a kilometre from Kiambu road, a drive through am expansive coffee plantation.
 Evergreen Park  is one of the  rising alternative for people who love  outdoors. For minimal fees at the gate you are allowed to use the beautiful grounds. This means that you can bring your own cooking equipment and prepare a meal here for friends and family.
 The ground features a dam that has two boats  to offer visitors a rare experience.  The lake is home to various  species of fish  so it is usual to find some individuals trying their hand in fishing.
 It is so easy to fall in love with this place, you will see families   having fun playing in several ways. There is definitely more to go for in my next visit.
 You can call 2540202051010 or send an email to info@evergreenpark.co.ke
Mamba Village Karen
 Mamba village is popular for its crocodile farm. The pens are home to several Nile crocodile. Nairobi mamba village is situated  estimated 13 kilometres from Nairobi  city. It is off Langata- Karen road, just a few minutes from Galleria shopping mall.
 This location is a perfect gateway for individuals who need to enjoy boat rides, crocodile viewing or ostrich feeding. One may also enjoy horse and camel riding.
 You will get to enjoy boat riding in the man- make lakes. There are several   restaurants for tasty meals making it an ideal  place for a family  weekend gateway. I loved the fact that I can get to choose what to eat at a friendly price.
The location also offers beautiful gardens for meetings, wedding and any other social gatherings.
| | |
| --- | --- |
| Entry fee   | 200KES |
| Boat ride fee | Adults 100KES, Children KES 50 |
|  Horse riding | 150KES |
| Camel riding | 150KES |
    Opening hours: Everyday 9 Am to 6 pm
   Contacts: 254735992686
Last words
 Kayaking is one of the most enjoyable outdoor activities you can take part in.  This is one of the ways to get away from the Nairobi lifestyle while on budget.
Tell us about your experience too. You can become a contributor here to write a blog about your adventures or simply leave a comment below in the comment section.
BrendaK
Brenda Kemunto is a creative freelance ghostwriter for industries but not limited to traveling, art, technology, health and much more. When she is not behind her computer on the keyboard, she travels far and wide. Welcome to the world of endless adventure stories that give meaning to life.