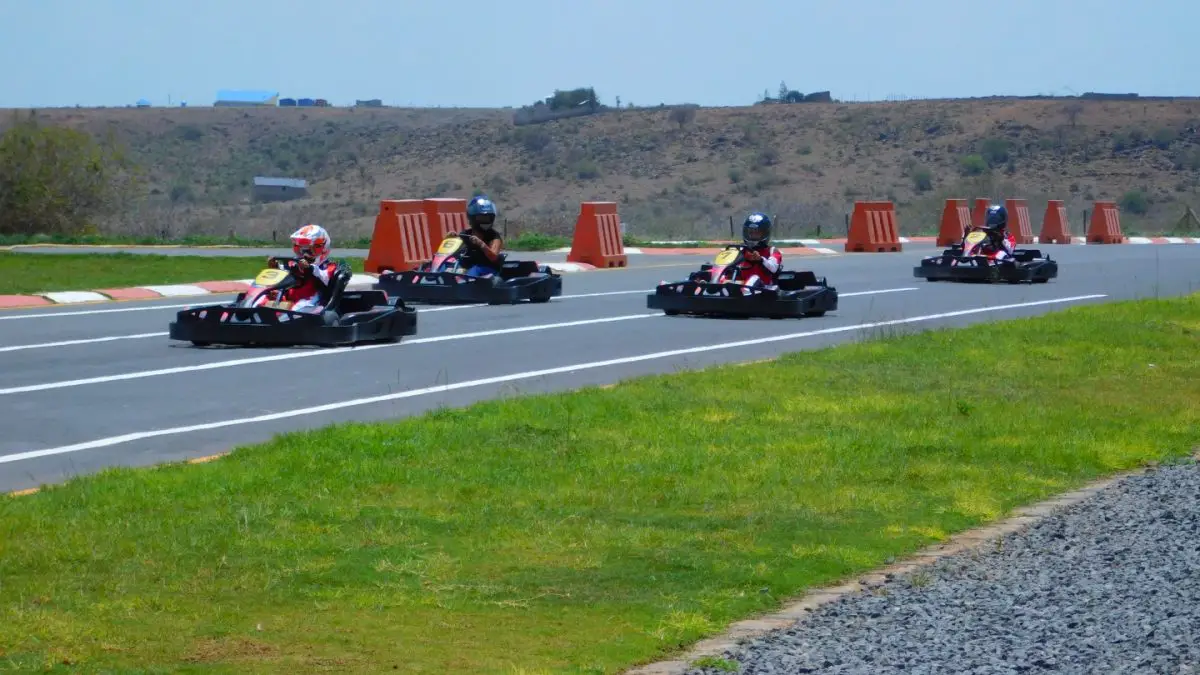 Do you ever dream of racing with your friends but the lack of racing circuits/ closed public roads, the cost of racing cars, lack of protective gear, and even express prohibition by the laws of the land are holding you back? If Yes, Go Karting is your obvious real activity to quench your thirst.
The smell of burning rubber and going full throttle with your squad is a full adrenaline thriller for both the young and the old to let off some steam regardless of their skill level. With identical Go-Karts, your squad gets a perfect level ground to square out the long-standing unwritten strive for championship trophy holder amongst you. The beauty of Go Karting is the realization that, the driver that is quickest to start off and takes the quickest line, the one with the most breathtaking overtaking maneuver, the one that is so brave to even forget all about breaking within the race will be the one to taste that sweet victory and bag the all-important bragging rights.
I will hereunder help you explore Five different Go Karting facilities within Kenya. Get driving at your favorite circuit. 
Go Karting at Whistling Morans
Whistling Moran is the newest kid in town on the Go Karting league. It's in AthiRiver which is minutes' drive from Nairobi City Center through Mombasa Road. Check our Map here for location.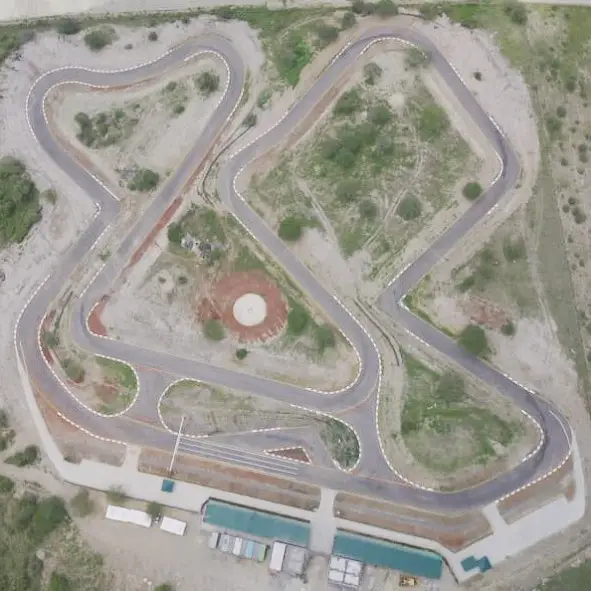 It's almost non-contestable that they have one of the longest tracks in Africa with an impressive 1.4 Kms. From my experience, it also offers the most challenge-worthy course with its uneven terrain of tough and random negotiations making it my favorite venue in Nairobi. My first time on this course, I kept stepping on the breaking pedal before negotiating corners and this saw me lose the first position of the race. Whistling Morans is a true entry point for drivers that wish to start go-karting as a sport, hobby, or even a career.
Whistling Morans has an elevated viewing area for spectators with seating and refreshments available right behind the pits. They also have well-equipped pit bays available to all racers full with power outlets for charging batteries, computers, phones e.t c
Now sit back and listen to this. The track at Whistling Morans are not only meant for Karts but also for normal cars and Super Bikes but with "abnormal" driving maneuvers. Ever wanted to try drag and drift racing just like you do on the Need For Speed Video games? This is the place to check out. Get in touch with them and find out when it's happening next.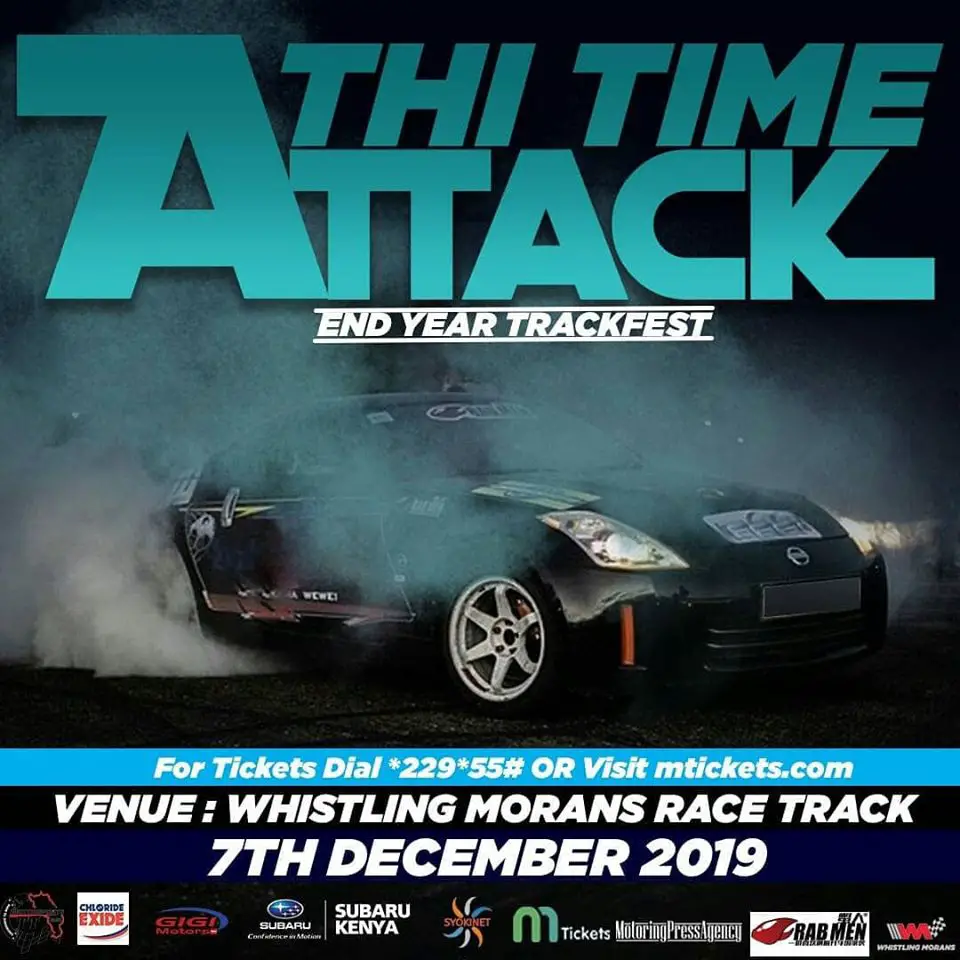 Pricing.
For once I found their pricing really competitive in comparison with the other available Go Karting facilities in Nairobi given the level of professionalism displayed. See below Tabulation.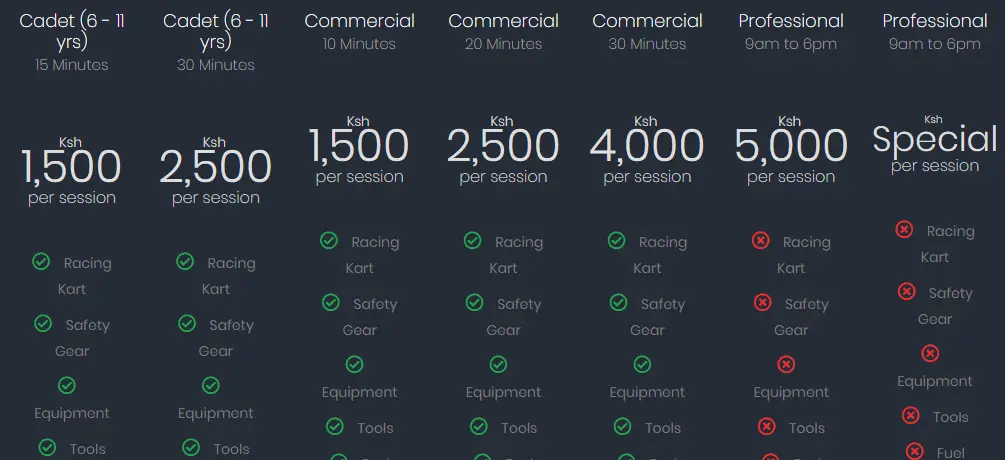 You are free to make a booking on their website before proceeding to the site. See below contact for further inquiries or guidance.
Mobile: (+254) 784 009009
The Great Rift Valley Circuit (TGRV)
TGRV prides itself at the flagship Motorsports and recreation facility on the African continent. TGRV is located on the floor of the Great Rift Valley in Mai Maihu.
It will take about a 40min-1hour drive from Nairobi to get to this location. To get to TGRV from Nairobi, head towards Maai Mahiu town and take a left onto the Narok highway. After approximately 2.5 Kms take a left turn at the TGRV sign Board before taking an all-weather track inland for another 3-4 Kms.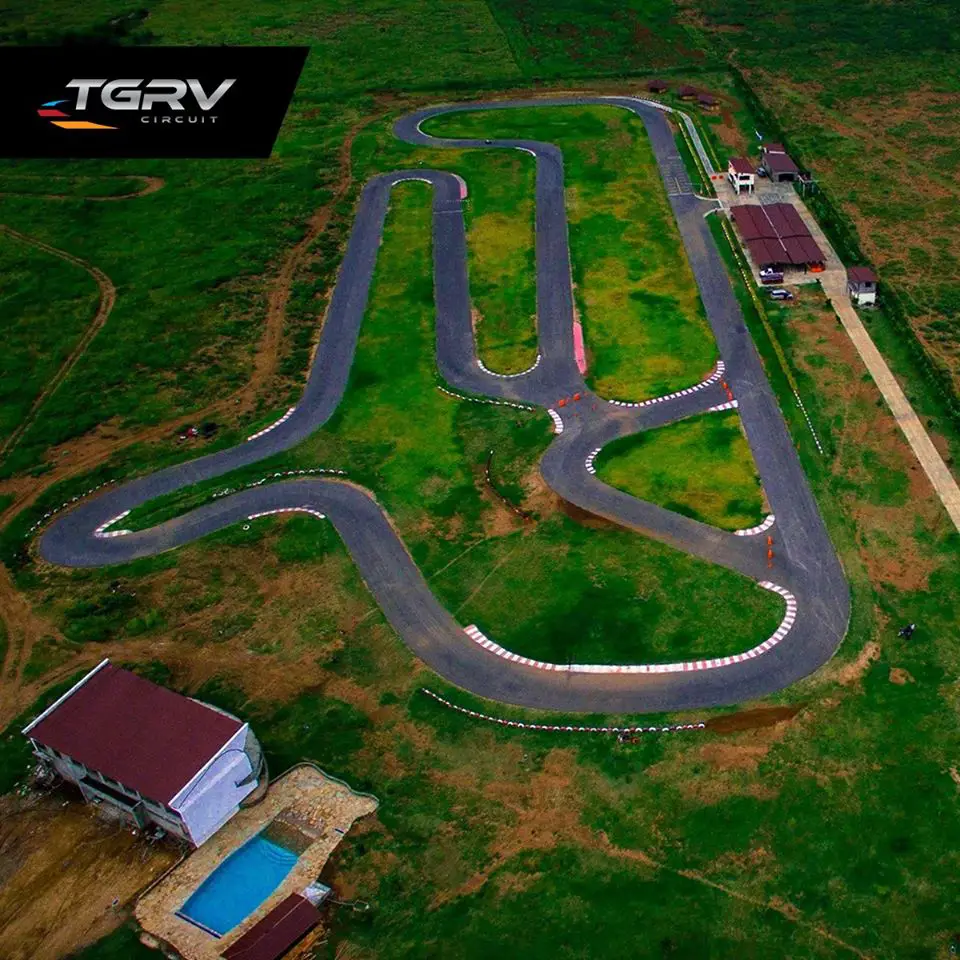 With a 1.2km track that has 5 hairpins, a deceptive loop and a whooping 260m straight, TGRV is an international standard facility built according to CIK-FIA regulations in terms of design, technicalities, and drivability.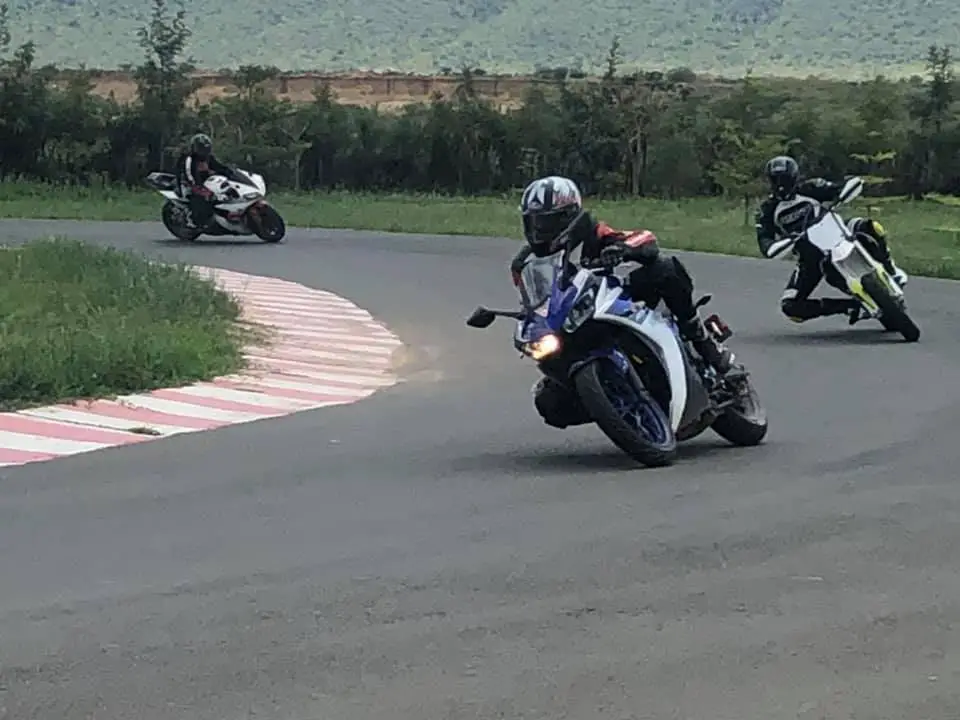 This track also hosts car and bike races. I will as usual share their contact for your inquiry on this since it's not a weekly occurrence.
Apart from Go Karting, TGRV has got a Zipline, swimming pool and can even organize guided walks and sundowner sessions in the neighboring area including Hell's Gate National Park and Mount Longonot.
Contacts;
This is a sure place to visit if Karts give you a thrill.  Reach out to the management on the below contacts.
Mobile: +254(0) 722 411 042.
Email: info@tgrv.co.ke
Two Rivers Go Karting
Go Karting in Two Rivers is one of the things to do in Nairobi. Located in the biggest mall in East and Central Africa, Madmax Karting is the place you should not miss whenever you visit Two Rivers Mall.
With a 400 meters track, Madmax Karting is open to both children and adults. It's good to note that they have no age requirement. However, the minimum height permitted is 121.9cm.
Charges
Two rivers Go Karting prices are fairly competitive given its location and the appeal to children. However, an adult thrill-seeker will find MadMax karting underwhelming in terms of track length and the fact that it's a mall setup.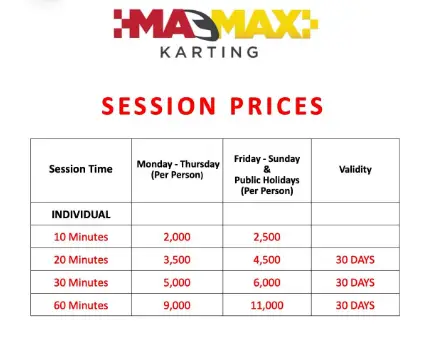 Contacts
If you are looking for places to go-kart in Nairobi and will like to sample some of the things to do in Two Rivers, then call these guys up.
Mobile: +254 700 002211
Email: info@madmax.co.ke
Mombasa Go-Kart
Located in Mombasa North-Coast, along Mombasa-Malindi Road, 1.5 km after hotel Whitesands, is a big signboard with two flags on the main road marking your arrival at Mombasa Go-Kart.
 Mombasa Go-Kart was established back in 2004 and is run by a Swiss Management. It has a track measuring approximately 460 Meters and comes complete with floodlights for night racing. Both adults and children are welcome to race however children's speed racing is capped at 10Kmph.
Opening Hours
They remain closed on Mondays but here are the operating hours for the rest of the week.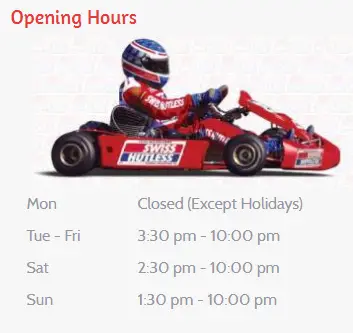 Charges:
For a 10 Minutes race, below are the rates:
Kenyan Citizens
Adult – Kshs 1,300
Children up to 12 Years – Kshs 600
Tourists
Adult – Kshs 1,500
Children up to 12 Years – Kshs 600
There is a special category of pricing that I highly recommend to anyone to consider. They call it Fun-Race Program. On aggregate, you will get more time on the kart and even better you get to engage competitively with other racers. Below are these special package details;
5 laps Warm-up. This is to get you used to the track and karts.
5 laps Qualifying.
10 laps Race. Formula 1 like start from the grid.
Winners presentation on the podium and a certificate for the best three.
For this special package, it will cost a Kenyan Citizen Kshs 2, 300 and for Foreigners Kshs 2,700
Contacts:
Generally, you simply walk in and get a slot to race. However, on high seasons, it is highly recommended you book online way in advance before proceeding to the venue to avoid long queues. Please reach them on the below contacts.
Mobile: 0721 485247
Email: casanova@mombasa-gokart.com
GP Karting at Carnivore Lang'ata
Honestly, I didn't want to write about this venue but since it's the nearest circuit to Nairobi CBD hence almost an obvious choice for anyone in Nairobi, let's dive into it.
GP Karting is located along Carnivore road off Lang'ata Road, literally minutes' drive from Nairobi City center. Its proximity to the city has seen it receive numerous visitors which should have been a blessing to them but looks like they have made it look like a curse given their inability to keep up with maintenance and service delivery standards. A quick search on users reviews online indicated numerous complaints the include;
Use of dirty suits that need serious cleaning,
sweaty-smelling helmets with worn-out screens,
few and old Karts that are in dire need of repair,
obvious overbooking which will call for your patience to over 3hrs or not race at all, and finally
substandard services from the overwhelmed and non-responsive staff. Not to mention their high prices.
Below are some of the reviews online;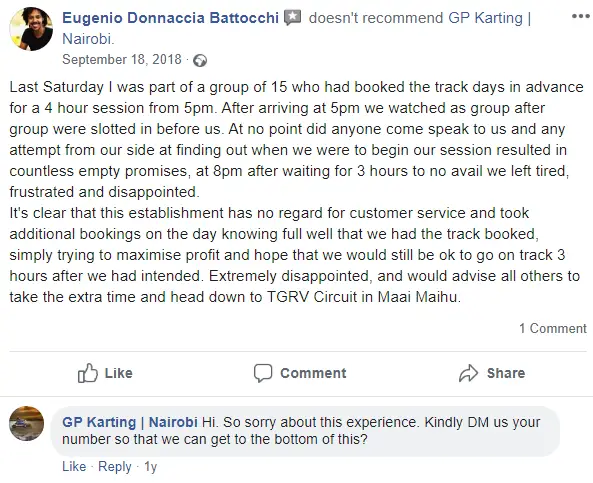 Overbooking
Substandard services from staff .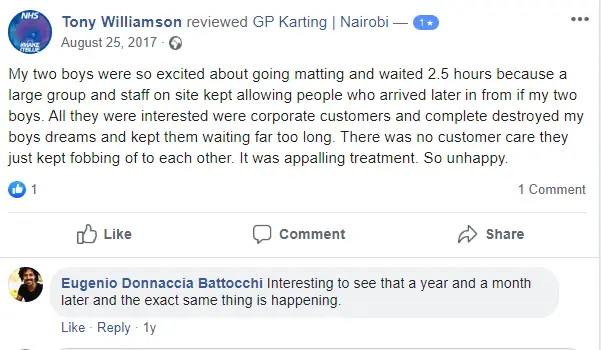 Total disregard of customer complaints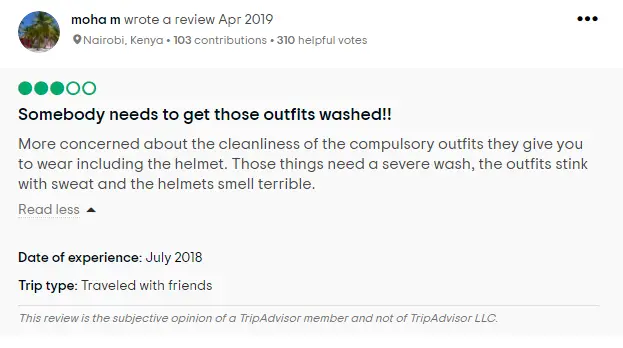 Compromised hygiene standards.
I hope someone will leave us a comment below if anything has changed, but for the record, I have no plan of visiting this place ever again.
You can try calling them on the below contact if someone will pick:
Mobile: 0733 666333
Tell us about your experience too. You can become a contributor here to write a blog about your adventures or simply leave a comment below in the comment section.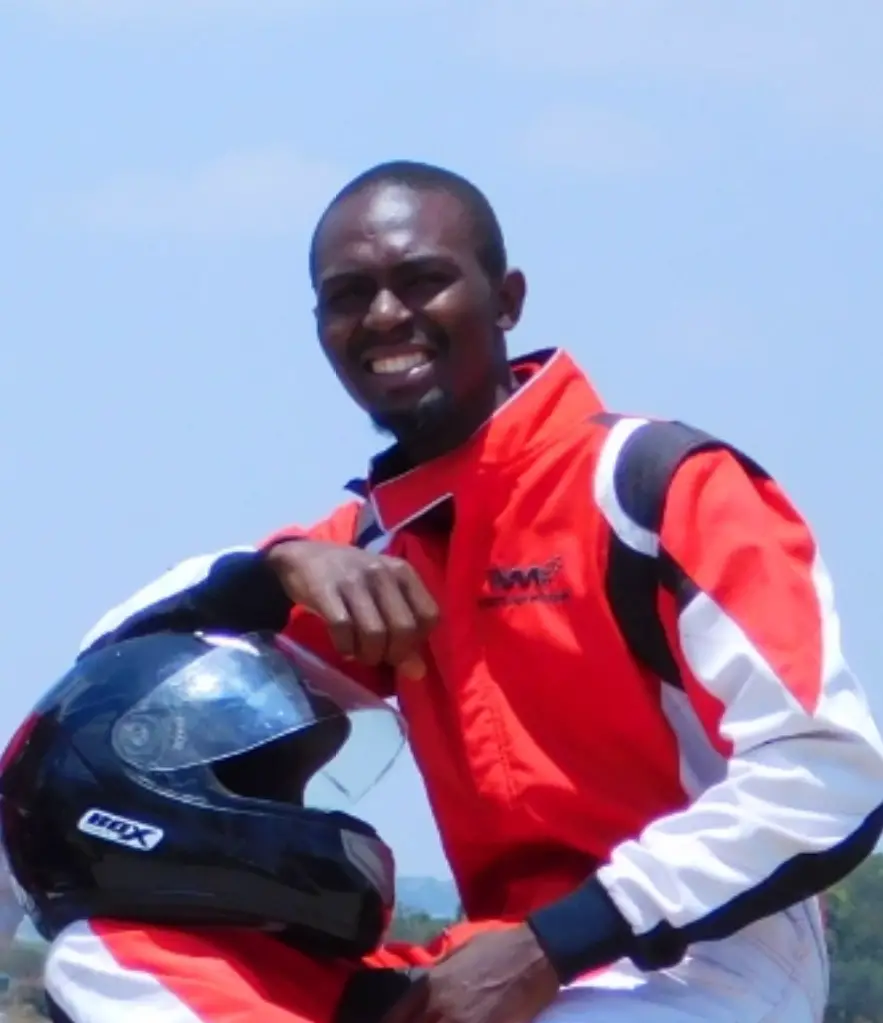 Enock Mogaka
Enock Mogaka is an outdoor enthusiast, thrill-seeker and photography hobbyist who never misses an opportunity to jump on an adventure trip or a one-day adrenaline spree with friends. His inspiration to share experiences with the world, discover destinations from alike-spirited explorers lead to the advent of gallivantme. When he is not out conquering the world, Enock gets lost in discovering the soft world of emerging tech and watching comedy movies.