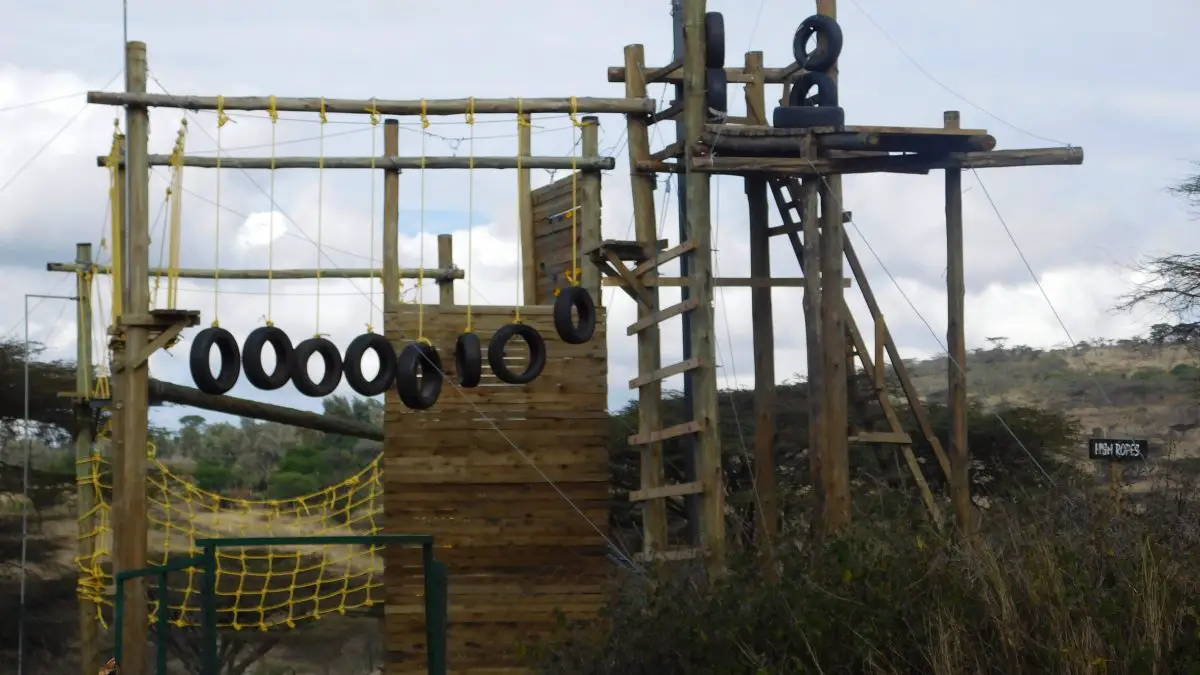 High ropes challenge is one of the best ways to put your adrenaline to test. It is one of the things to do in Kenya other than Safari. There are several high ropes challenges in and around Nairobi that you can take advantage of for a good time.
Diguna high ropes challenge, Rongai
 Diguna High ropes challenge is located at AIC Diguna, Ongata Rongai, at Maasai lodge near African Nazarene University. If you are using public transport board a bus number 125 or 126 to Rongai or kiserian and alight at maasai lodge stage. Take a motorbike and alight at AIC Diguna and walk about 2 km to the location.
 For the adrenaline activities lovers, Diguna high ropes challenge is one of the places you can visit in Nairobi. The high ropes challenge and the obstacle course will undoubtedly test your fearlessness as well as your love for heights
This sport is not for cooperates on team building sessions, it is also ideal for friends and family looking forward to have an adventurous weekend
 A harness rope will always be tied around your waist, hips and upper thighs because the threat of fall is always real. You should be fine as long as you follow the instructions given by your instructors.
  At Diguna ropes challenge, strict safety measures are undertaken to ensure that no injuries occur. Before you take the challenge, you are made to read the rules and regulations. An added security measure, this challenge is not taken when it is raining because the course are slippery thus increasing the risk of fall.
 There are several physical requirements that must be adhered to before one takes this challenge. For instance, you have to be at least 10 years of age and with a height of not less than 130 centimeters. You also have to weigh not more than 110 kilogram. This center also requires that all children below the age of 14 years be accompanied by an older relative of not less than 23 years.
 This challenge consists of nine short courses and each requires its own degree of concertation and balance.
 Tremor Bridge: Tremor Bridge is one of the hardest challenges on the course but if you concentrate, you will find it pretty easy. It is a horizontal bridge with widely spaced thin planks on which you walk and a rope for support. At some point in the middle you have to cross over the rope, which is your support without slipping off the planks.
 Logs in a line: This horizontal challenge had two options, walk on swinging logs arranged side by side. You can also walk on a tight steel rope while holding onto suspended swinging ropes for support.
 This location is more focused on groups of not less than 15 people to take part in the challenge at ago. However, smaller grounds and individuals also get a chance to challenge their adrenaline.
   You will part with 1500 KES for the high rope challenge. You will have to book at least a week in advance especially if you are a large group so as to gibe room for the facilitators to plan how to best accommodate you.
 Contacts: 020 211 8885.
 Here is our map for directions.
PEC Nature Camp- corner Baridi
 PEC nature camp is a dedicated premier outdoor adventure and team-building hub that serves as an ideal location for self – discovery through obstacles and challenges testing one physical limit and more.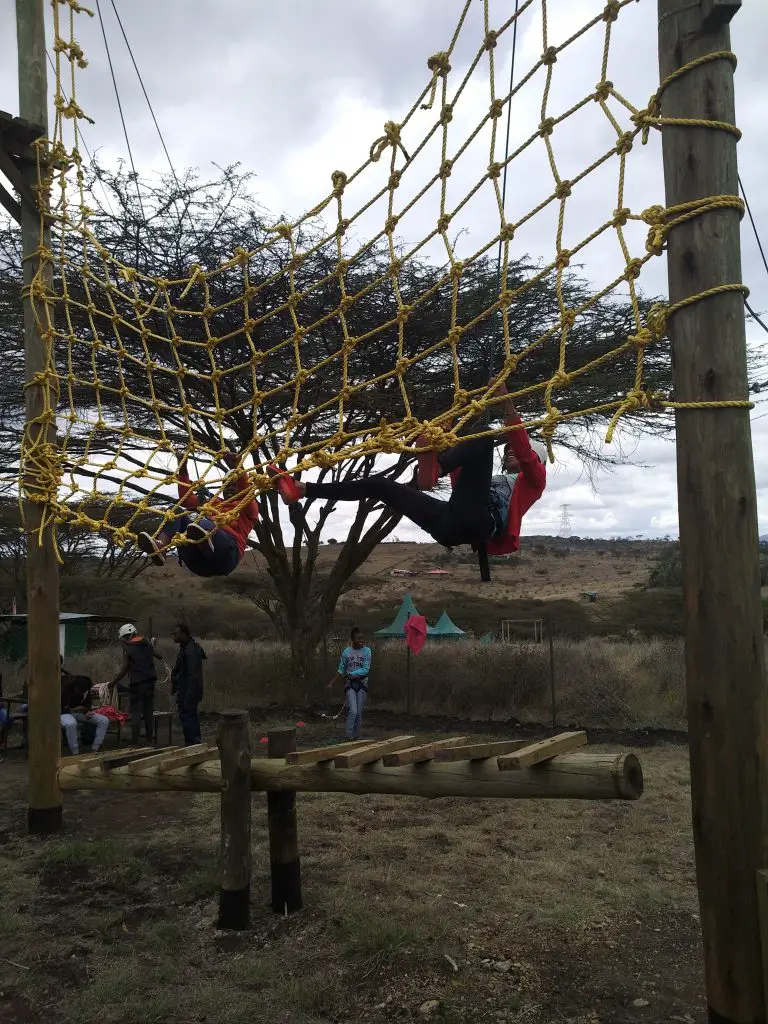 PEC nature Camp is located on the scenic foothills of the Ngong hills about 40 kilometers south of Nairobi in Corner Baridi, off Magadi Road, 6 kilometers past Kiserian town.
 For more information about high ropes challenge here at PEC camp check their Facebook page or call +2547370557
Brackenhurst high ropes challenge course
   Brackenhurst is well- designed for innovative team activities. Besides the beautiful grounds that are ideal for nature walks, Brackenhurst has a dedicated high ropes challenge course which is an incredible tool for team building. If you and you and your friends are feeling adventurous, they organize for a trained instructor to guide you through completing an invigorating and fun challenge involving a high level of teamwork.
 The hotel charges 2500 for high rope challenges per an individual.
 Contact: 0736424242
Next Gen Mall
 Next gen mall is located on Mombasa road in Nairobi, it is just 15 minute's drive from Jomo Kenyatta International airport and just 10 minutes' drive from Nairobi Business Centre. Take a look at this map for accuracy.
 Next Gen Mall is your perfect choice when you want to enjoy indoors high ropes challenge.   At playland Museum Park located at Next Gen mall, you get a chance to challenge your equilibrium at only 300 bob per course.
 When is Next Gen mall open? It is open from Sunday to Saturday 8.00 AM to 11.00 AM
 Contacts: 254734719052
Tell us about your experience too. You can become a contributor here to write a blog about your adventures or simply leave a comment below in the comment section.
BrendaK
Brenda Kemunto is a creative freelance ghostwriter for industries but not limited to traveling, art, technology, health and much more. When she is not behind her computer on the keyboard, she travels far and wide. Welcome to the world of endless adventure stories that give meaning to life.