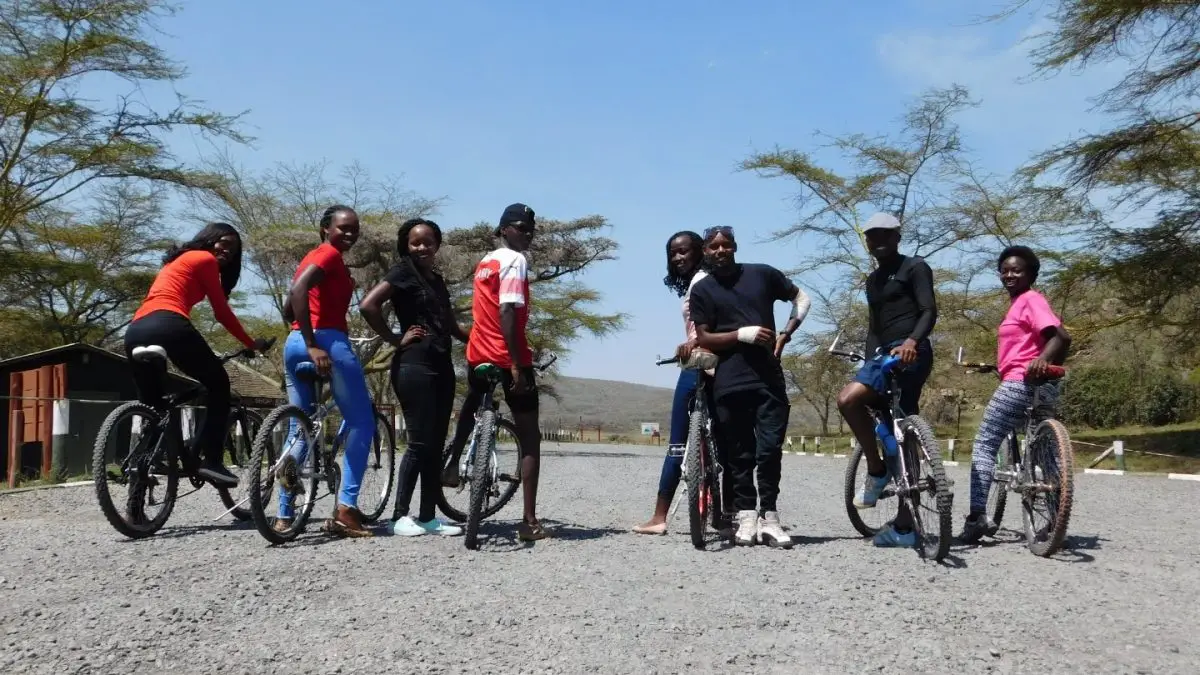 Nairobi is known or its fast and bustling nature. Heavy and often noisy traffic and exhaust fumes from vehicles characterize the city life for most residents through the working days of the week.
For lovers of cycling, spending a day of the weekend on a cycling tour or trip is a sure way to feel recharged and refreshed for the next week ahead. Going on a proper cycling trip also makes you focus on your health and fitness. You'll be motivated to attain and maintain a higher level of fitness, with greater awareness of your overall health while out on your biking escapades. It's also important to realize that just interacting with nature while cycling helps us feel more grounded-one with nature, eases anxiety, and lowers overall stress levels.
It's with this background that this post will give you options of where to cycle within and around Nairobi city. The selected places have nice cycling trails within refreshing nature and have bikes available for hire just in case you don't have one for yourself or just started being bitten by the biking bug.
Cycling in Karura Forest
Karura Forest is practically within the city given that it's on your way from the city center to the diplomatic zone of Kenya in Gigiri, along Limuru road where American Embassy, among other embassies, and the Africa Headquarters of United Nations (UN) is located.
The biking trail can be accessed through three of the available public main gates where two of the gates have designated bike hiring depots. One of the depots is on the KFEET grounds best accessible through Gate A (Limuru Road) or Gate D (off ICRAF Road), and a second bike rental point at Gate C (a.k.a. Sharks) off Kiambu Road. See below the map.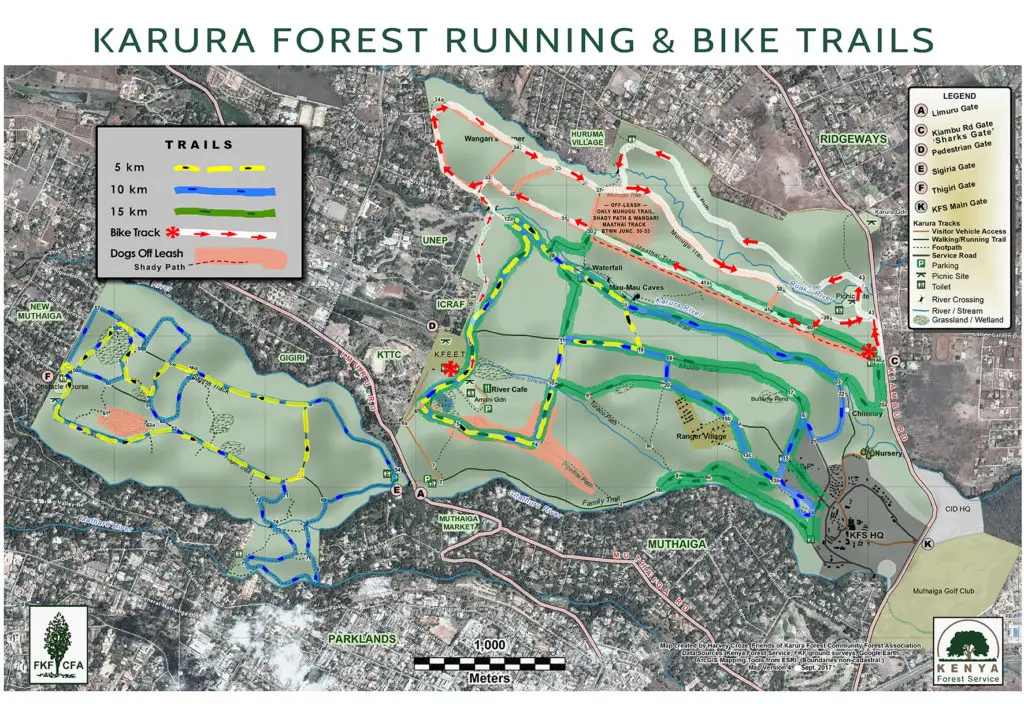 Karura Forest Nairobi is open for cycling every day from 8:00 Am – 5:00 Pm. However, it's important to keep tabs with your weatherman since bikes will not be rented out if it's a rainy morning or if there was a heavy downpour the previous day since the trails take too long to dry up due to the heavy tree canopies all along. This also means that you need to avoid banking on cycling here during rainy seasons in general since the walking/cycling trails are often so muddy to venture into.  The brighter side of the tree canopies is that they provide the all needs share during sunny days and plenty of clean and fresh air making your cycling experience second to none. Actually, the majority of the people visit Karura Forest to simply walk their pets and enjoy the fresh air away from the city.
Biking at Karura forest will cost you in the following levels;
Forest Entry Fee
Vehicle Parking Fee (if driving)

Bike Rental
Bikes are hired at Kshs 500 for a 2 Hours ride. This period is extendable.
Picnic fee (If planning to have any)
N/B: Please take note that Karura Forest is a Plastic Bottle free zone. Pack your drinking water appropriately in a non-disposable container.
You can always contact the rental service providers or management to plan your visit on the below contacts;
Bike Rental: James – 0734-727257
General Enquiries:
Tel: +254 (0) 728 501333
Email: info@karurafriends.org
Hell's Gate National Park
This cycling heaven is not exactly within Nairobi but I can't resist writing about it since it will take you about 2 Hrs drive from Nairobi. To reach there, drive to Naivasha town through the Nairobi- Nakuru Highway. Once you reach Naivasha town, take the Moi South Lake Road and drive 35 km to the Hell's Gate National Park where it is located. 
As the name suggests, this biking trail is squarely within a National Park. Your guess is most likely as good as mine. You will be cycling among wildlife.
The amazing thing is that the park does not have predators. You will be safe. However, keep an open eye in the unlikely event you meet a snake or a group of agitated buffaloes that happen to wander along the cycling trail. I hear they are generally calm until; they get provoked, someone ventures too close or if one of them has just given birth next to the road and they have to protect the young one and the new mother.
The cycling trails are basically open all week from 8:00 am to 6:00 pm. You will certainly want to be there as early as possible to ensure you enjoy biking all day long. As opposed to Karura Forest where you hire a bike at Kshs 500 for just two hours, at Hell's Gate National Park the same Kshs 500 gets you a whole day's ride.
However, as you could expect, to access any National Park in Kenya a fee is levied. Below is the tabulation for your guidance;

Apart from cycling, you will hopefully carry a camera to take amazing landscape photos. Below is a glimpse of other activities within the National Park that you can potentially do while there;
Rock Climbing at the Fischer's Tower any thrill-seeking individual and Central Tower for the experienced climbers.
A walk down into the Hells Gate Gorges provided it's not a potential flash floods season.
Swimming at the Geothermal Hot Spa.
Contacts.
In the event, you need to confirm anything before travel, below are the known contacts for the site. However, it's basically walk-in provided you have carried your Identification document as appropriate. i.e Identification card or Passport.
 Phone: +254-50-50407 / 0770070405
Email: hellsgatenp@kws.go.ke
Brackenhurst – Tigoni & Limuru Tea and Coffee Farms
In the mention of Tigoni & Limuru Tea farms, it's so refreshing to get yourself on a bike and cycle through the beautiful landscape. I consider this place to be both a cycling and photography magnet.
Limuru is barely 45 Mins from Nairobi City center. The roads are all tarmac and smooth. You will have to make a choice on what route to take to reach Limuru. The first is through Limuru road – Ruaka center – Banana town and the other is taking Waiyakiway Highway and head to Limuru upon branching off at Maimaihu junction.
 Apart from having a beautiful and picturesque landscape, I specifically singled out Brackenhurst Conference center in a cycling post for three reasons;
Those who do not have their own bikes will get to hire, Brackenhurst Conference Center hires out their bikes. For rates and availability, I will highly recommend you use the contact details below for confirmation.
The second group are those that will be diving in with or even without own bikes but could love to get a secure place to park before they venture out on their biking trails. You will have all the peace of mind to leave your car at the Brackenhurst parking lot, hit the trail return to a fresh meal before heading back to the city. You too need to check out the below contact for your planning purposes.
In the event you are entirely new to Limuru area or even venturing our solo without a squad and clueless on how to navigate out and about, you actually should consider to join a guided cycling tour normally scheduled on every Tuesday from Brackenhurst.
The other option for this venue is that you can actually make it a full getaway where you take up accommodation and wake up to an early sunrise bike tour. You can practically customize your experience to what floats your boat.
Get in touch with the management below for booking, assistance or service availability confirmations on your intended visiting days;
Phone: + 254 737 768095 +254 724 256 721 / +254 748 199 552 / +254 736 424 242
Email: bookings@brackenhurst.com , 
Swara Plains Wildlife Sanctuary
Swara Plains Wildlife Sanctuary is a 20,000 acre fenced land opposite the Lukenya Hill. This expansive land plays host to Thousands of wild animals that includes; Giraffes, Zebras, Wildebeests, Antelopes, Ostriches and over 280 Bird species. Just like Hell's gate National Park, there are no carnivorous animals. You will cycle in peace while interacting with the Wild.
To get to Swara Plains Wildlife Sanctuary from Nairobi, drive on Mombasa road past the Daystar University turn off (on your left) and take a right turn at Small World Country Club. Drive on the dirt road for about 1km till you get to the Swara Plains Gate.
As of the date of posting this blog, I do not have a confirmation on bikes' availability for on-site hiring. However, allow me to recommend a Kenya local bike hiring service providers and biking tour facilitator Baisikeli Adventure. Below are their contacts to help you plan ahead.
Mobile: +254 799 396513, +254 738 681649
Email: ask@baiskeliadventures.com
Cycling at Ngong Hills- Kompass
For just Sh500, you have 3hours worth of exploration of the beautiful Ngong hills on a hired Mountain Bike.
As one could imagine, talking of hills and Cycling in the same sentence some form of legwork preparations before venturing here. However, this place has more to offer than cycling.
Apart from Cycling, Kompass Ngong hill is known for Ziplining, Archery, Quad biking, Paint Balling, Photography, and Picnic. For planning an any further information confirmation, please contact the Kompass management on the below contact details
Contacts:
Mobil: 0798 002474
BONUS POST:
Cycling at Haller Park – Butterfly Pavilion Mombasa
This venue is obviously miles away from Nairobi. You may actually even take a flight to get there and its thus not a day trip but rather a weekend-out-plan at the least.
Mombasa is a coastal town and for that reason, it's hot and humid. This makes the thought of cycling sound even ridiculous. Shock on you.
My visit to the Butterfly Pavilion was a plan to meet up with my cousins for a ride while I visited the town. They actually didn't show up due to various reasons at the end of the day but I managed to have mad fun. Allow me to share with you how to get there, gate charges, bike hiring charges and contacts details further below. This is how my day unfolded.
On getting to the pavilion, I wasn't very clear on what to expect in such a humid and hot climate. Having no company, I proceeded to pick a bike after testing a few around the parking area. I bought a bottle of freezing cold water from a tuck-shop within the venue, was given instructions on what color codes I will meet and what they meant and off I went.
One of the color code if followed along the trail leads one through a 10 Kms circuit within the park. Another color code gives a shorter route option of 5 Kms. It is upon the cyclist to gauge their skill level and speed to which route to take. The catch is you have 1 hour to get your way back to the starting point. Otherwise, you will be charged for another round.
 Along the trail, I came e across a number of training pits where one can actually do some press-ups or any other creative exercise they may come up with. There is also ponds of water along the trails where you will see some animals coming to water.
A quick one-liner history of this place. Haller Park is reclaimed land from an abandoned quarry hence the existence of water ponds. All vegetation and animal were introduced there much later.
Enough with my experience, I will let you visit to discover more by yourselves. Below is the necessary information to help you plan better.
How to get there:
Butterfly Pavilion is along Mombasa – Malindi road just before Bamburi junction/Pirates. Please note the Entrance to Haller Park is different from the one to Butterfly Pavilion where all our biking happens.
Entry Fees:

Timing: 8 :00AMm – 5:00Pm
Bike Hiring Charges: Kshs 300 for a 1hr ride.
Contacts:
Email: info.les@lafargeholcim.com
Phone: +254 721 381 949 / +254 725 616 632
Tell us about your experience too. You can become a contributor here to write a blog about your adventures or simply leave a comment below in the comment section.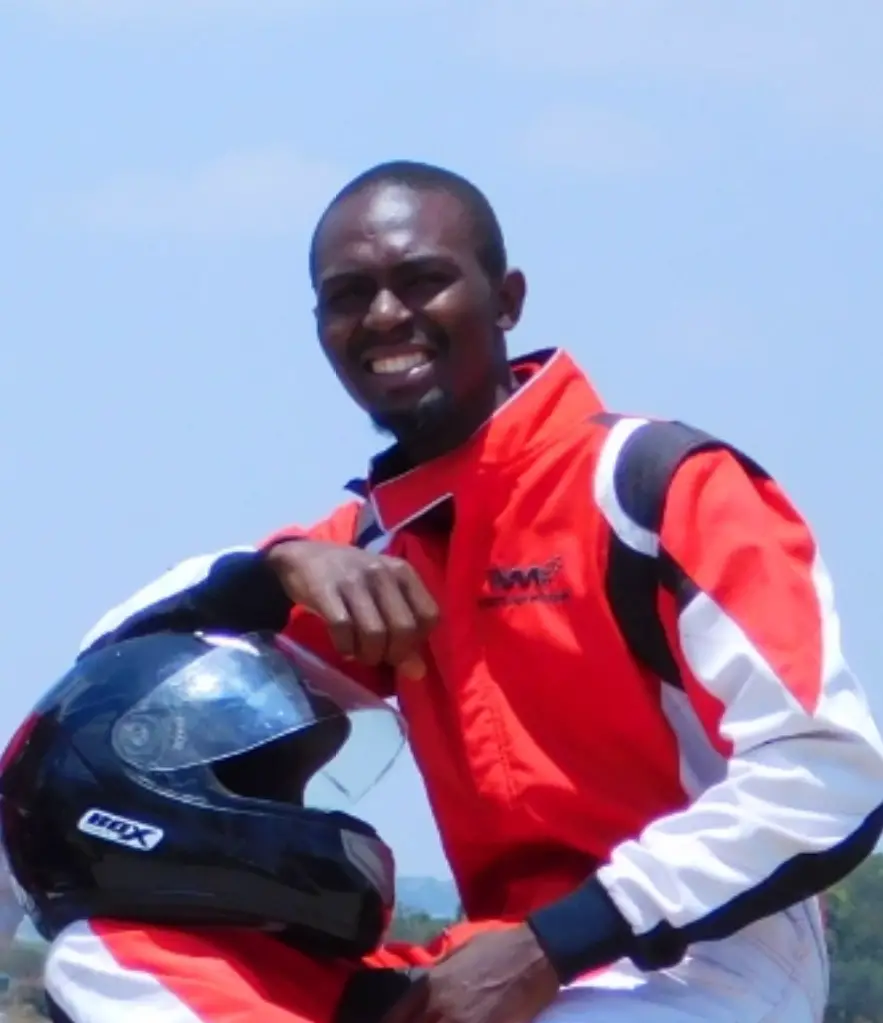 Enock Mogaka
Enock Mogaka is an outdoor enthusiast, thrill-seeker and photography hobbyist who never misses an opportunity to jump on an adventure trip or a one-day adrenaline spree with friends. His inspiration to share experiences with the world, discover destinations from alike-spirited explorers lead to the advent of gallivantme. When he is not out conquering the world, Enock gets lost in discovering the soft world of emerging tech and watching comedy movies.