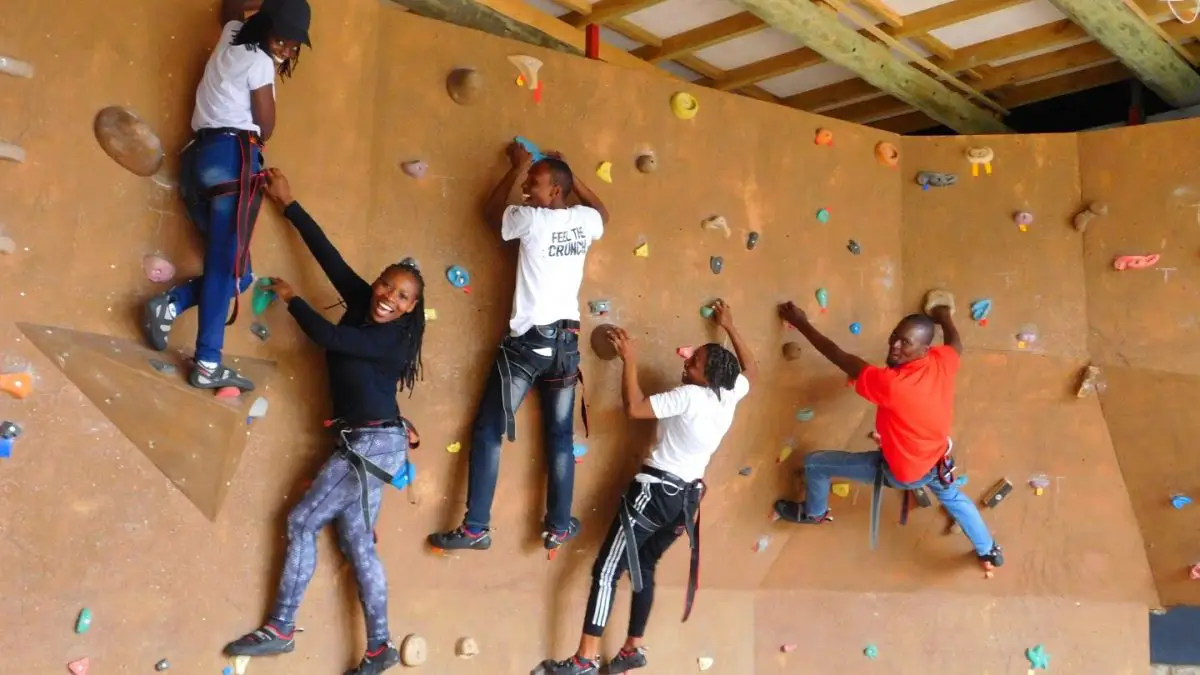 Indoor Climbing Gyms currently tops up my list of typically outdoor activities that are now "domesticated" and being done indoors. This is basically rock climbing where one was expected to venture out far and wide into the wilderness to get to safety-tried rocks just for the thrill. Needless to say, the hustles associated with long periods of planning around it, getting a team to venture out with, waiting for the right weather e.t.c
The world over, this fun activity has increasingly been getting much acceptance as an actual indoor activity and simply being referred to as Sport Climbing or Indoor Climbing Gyms. It comes as no surprise that Sport Climbing could have made its Olympic debut in the 2020 Tokyo Olympics, with athletes winning Gold thanks to the power and strength in their fingertips. The 2020 Tokyo Olympics was unfortunately postponed to 2021 due to the COVID-19 outbreak. 
In Kenya, the indoor climbing gym is taking root and so far we have the below locations that you can go an amateur or even skilled climber to put your fingertips into the works.
Blue Sky Climbing Gym- Diamond Plaza
Whether it's your first visit or you've been climbing for years, Blue Sky Climbing Gym is a great place to come with the family, with friends, or as an individual.
Below are some of the climbing challenges and activities available;
Top rope walls, up to 6.5 meters high
100+ top rope routes
Bouldering walls, up to 4.1 meters high
50+ boulder problems
Variety of routes for all levels of climbers
Training area, hang boards, bars
Apart from the climbing activities on site. Blue Sky Climbing Gym offers the following services which you can inquire about from their climbing desk whose details are also shared below.
Adults and Kids Beginner Climbing classes
Shoe & harness rental
 Climbing trips
How to get there
Blue Sky Climbing Gym is located on the 6th Floor, of Old Tower, Diamond Plaza, Masari Rd, Parklands within Nairobi City. Check out our Maps here.
Days and Open Times
Monday –Friday 4:00 Pm-9:00 Pm
*Thursdays until 11:00 Pm*
Saturday 12:00 Noon-9:00 Pm
Sunday 2:00 Pm-7:00 Pm
Charges applicable
Below are the rates as of this article's publishing date. For planning purposes, you are encouraged to contact the management.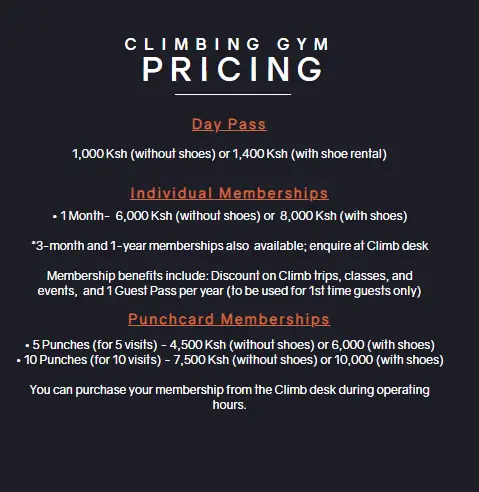 Contact Details
Climb Desk Phone: 0792 790 087 Email:info@blueskykenya.org 
Valley Arcade Outdoor Climbing Tower
This is an 'outdoor' version that is still run by the same Blue Sky team whose main office is at Diamond Plaza as above. We still classify this climbing gym as indoor since it's an entirely man-made tower but only built on the greenfield as opposed to being in a building.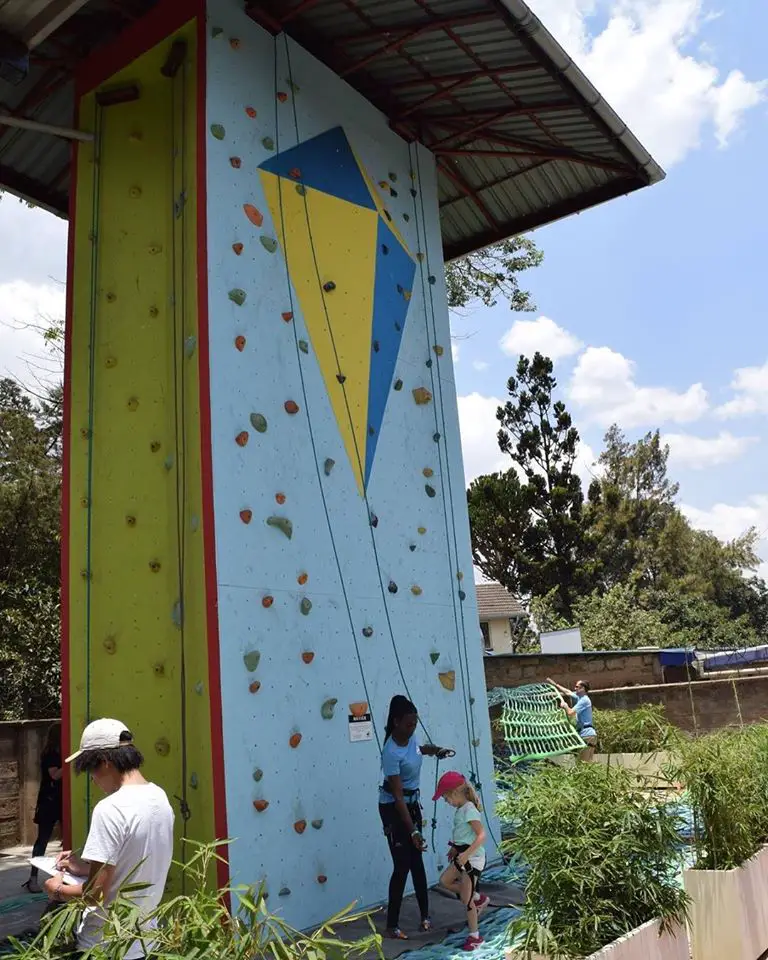 The operating hours are as below.
MONDAY-FRIDAY: 3:00PM-9:00PM
SATURDAY: 12:00PM-8:00PM
​SUNDAY: 2:00PM-7:00PM
Given that Valley Arcade Outdoor Climbing Gym is managed by Blue Sky, their rates, contacts and other auxiliary services remain the same as above.
Ozone Trampoline Park – Village Market
The Village Market Mall is located along Limuru Road, Gigiri, Nairobi. See Map here.
While at Village Market, you will need to get to the new wing and head up to the 4th Floor which is largely designated for Entertainment and Recreation.  Ozone is Village Market's 15,000 sq.ft trampoline park that is great for kids, teens and adults alike.
There are 10 activities at Ozone waiting to be explored including Open Course, Professional Climbing Wall, Dodgeball Court, the Ninja Course, Slam Dunk, Parkour Wall, Small Climbing Wall, the Baby Trampoline, Olympic Trampoline, and the Foam Pit. This is one place you will go gallivanting if not for the climb then to marvel at the tasteful interior décor of the Entertainment area and the mall in general.
Operating Hours are as below;
Monday – Saturday: 8:30 am – 10:00 pm
Sunday: 10:00 am – 10:30 pm
 To Contact Management, below are the details to use.
Mobile: +254 207 123141 Email: dmin@villagemarket-kenya.com
Mount Kenya Climbing Gym Nanyuki
Just like the name suggests, this is a Climbing gym that prepares Mt. Kenya climbers for the task ahead. The Mt Kenya Climbing Gym is located just 4 km east of Nanyuki town at the base of Mt. Kenya making it the only Indoor Climbing gym outside of Nairobi to make it to my list.
Similar to the Valley Arcade Outdoor Climbing Gym, the Mt Kenya Climbing gym's main feature is the free-standing tower with a shade on top which is clearly visible from the Nairobi / Nanyuki Road.
 To add icing to the cake, Mt Kenya Climbing also has a climbing wall in a semi indoors area together with a Hanging board. This combination of climbing, clinging and endurance exercises are meant to give one a sure shot at conquering any Mountain living to their motto of "Train, Learn Conquer".
Just for honorable mention and diversity, Mt Kenya Climbing Gym has a low-lying rope walking area just next to the Climbing Tower.
Lest Talk of Charges.
The beautiful thing is that you get to enjoy all the above-mentioned activities with just a single payment. See the below packages.
Adult Single Visit: 600 Shillings
Kid (under 16) Single Visit: 400 Shillings
Monthly: 5,000 Shillings
Annual: 40,000 Shillings
4 Bundles Adult Pass: 2000
8 Bundle Adult Pass: 3500
15 Bundle Adult Pass: 6500

Now let's talk about a totally unrelated but a must mention gem at Mt Kenya Climbing Gym. Ever imagined getting to a workout area outside the city but still getting access to a very conducive coworking space? From the cowork space, you get an easy-to-access cafe for some coffee and bitings. Downstairs there are ready showers provided for those that want to clean up after a workout. A meeting room is also available for private meetings or presentations. This is truly a unique setup in Nanyuki that simply lets you work as you work out and enjoy your weekend getaway.
Opening Hours.
Monday – Wednesday + Sunday 9:00 Am – 6:00 Pm
Thursday – Saturday 9:00 Am – 8:00 Pm
Contacts.
To get in touch with the management, see the below details.
Mobile: +254 721 371694
Let's get set to get climbing.
Tell us about your experience too. You can become a contributor here to write a blog about your adventures or simply leave a comment below in the comment section.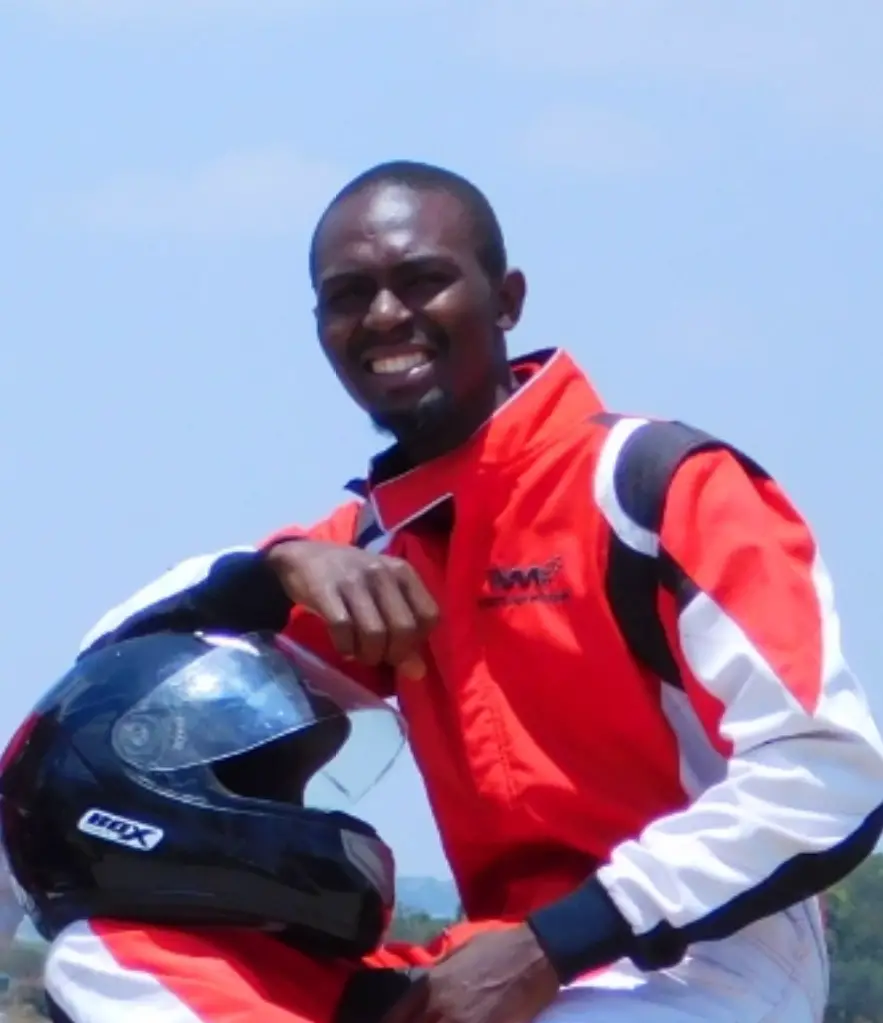 Enock Mogaka
Enock Mogaka is an outdoor enthusiast, thrill-seeker and photography hobbyist who never misses an opportunity to jump on an adventure trip or a one-day adrenaline spree with friends. His inspiration to share experiences with the world, discover destinations from alike-spirited explorers lead to the advent of gallivantme. When he is not out conquering the world, Enock gets lost in discovering the soft world of emerging tech and watching comedy movies.